Fall 2009 Web Browser Outlook
Sun, Sep 27, 2009 2-minute read
The names are familiar: Firefox, Google Chrome and Safari. These relatively new browsers have been shaking the foundations of Internet Explorers complete victory over Netscape. These new browser are implementing fresh ideas and breaking out of the crusty browsers of the early 21st century. With the second browser wars in full swing, lets see where things stand and what's coming.
Mozilla Firefox 3.6
The Firefox team is focusing on startup performance, JavaScript performance, lightweight themes, and a few new features for developers. Firefox 3.6 is expected to arrive Nov 2009.
After that, Firefox 3.7 will boast a revamped user interface, a WebGL implementation and ongoing speed and responsiveness improvements.
Safari 5?
Safari 4 was just released, and we have not heard any official statement from Apple what features Safari 5 will include, but looking at WebKit we can see what core browser technologies are being developed. WebKit has added geolocation support, HTML 5 draggable, and HTML 5 forms patterns and required attributes. What directly user visible changes will Apple make? We will have to wait and see.
Internet Explorer 9?
The next version of IE is still quite a ways out (3 years if you look at the release time-frame of IE 7 and 8 ) but it's expected to boast many new HTML 5 features including native video and audio playback. Internet Explorer 9 should be quite a feature packed release with HTML 5 goodness, better performance, and improved standards support.
Opera 10.10
Opera 10 was just released this month but the team is working on Opera 10.10 with Unite. So far we're waiting to hear more from the Opera team about what they are working on.
Google Chrome 4
With Google Chrome 3 being released, the Chrome team and external developers are hard at work making the browser cross platform with support for OS X and Linux. User end features include bookmark synchronization, extensions and surly will include more JavaScript performance enhancements.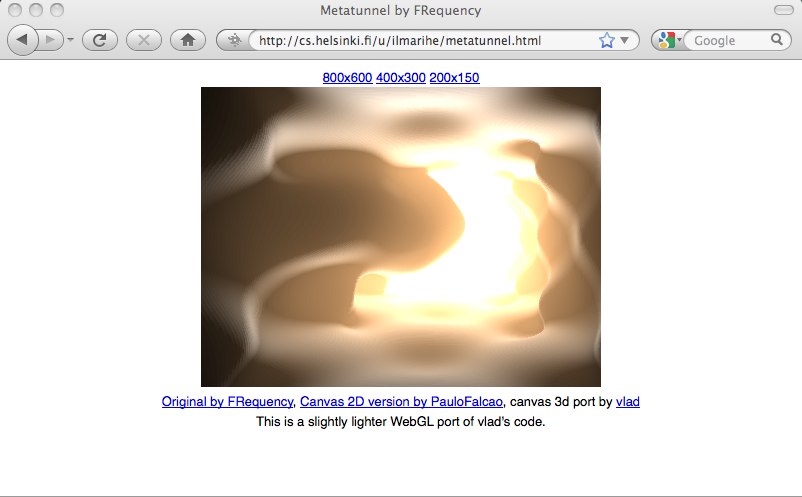 Metatunnel by FRequency - WebGL Demo
Overall the competition looks quite healthy and browsers are being enhanced to be the Operating System of the future.